hausconcrete
Regular price
£595.00 GBP
Regular price
Sale price
£595.00 GBP
Unit price
per
Sale
Sold out
Looking for a different size? It's easy. Complete our quick design form, and we'll reach out with a tailored quote to match your precise requirements.
This coffee table measures 600mm (L) x 600mm (W) x 300mm (D).
Introducing our 600mm Square Coffee Table, a testament to the timeless fusion of classic charm and modern elegance. Crafted with the same meticulous care and profound respect for design, this coffee table encapsulates the spirit of artistry.
With table bases that boast bold lines and captivating angles, poised to command attention in your living space. Like that vivacious friend who keeps the party alive with endless tales, it's set to be your next charismatic conversation starter. While it may not be the stand-up comedian of your room, its captivating design and contemporary allure undoubtedly distinguish it in its league.
This coffee table beckons you to create moments of connection and inspiration. Its compact yet spacious surface is perfect for your favourite books, an assortment of snacks, or a stunning centrepiece. Whether it's your morning coffee ritual or a cosy evening with friends, this table quickly becomes the heart of your living space.
Available in a variety of tabletops, the classic muted tones serve as a versatile canvas for your unique style. With its soothing hue and clean lines, it seamlessly blends with diverse interior themes. Whether anchoring your seating area or sitting as a standalone statement piece, the subtle colours and elegant metal work accents infuse your space with serenity and refinement.
Elevate your home with a timeless piece that effortlessly combines beauty and function. The 600mm Square Coffee Table with its striking metal base brings sophistication and warmth to your living space, turning ordinary moments into extraordinary experiences. It's more than a table; it reflects your style and a symbol of quality.
This coffee table measures 600mm (L) x 600mm (W) x 300mm (D).
At Haus Concrete, every table is handcrafted to your unique specifications. Embracing the essence of bespoke, each piece of furniture is a distinct creation. If you desire a different size, it's simple. Fill out our quick design form, and we'll provide you with a tailored quote to match your exact requirements.
Share
View full details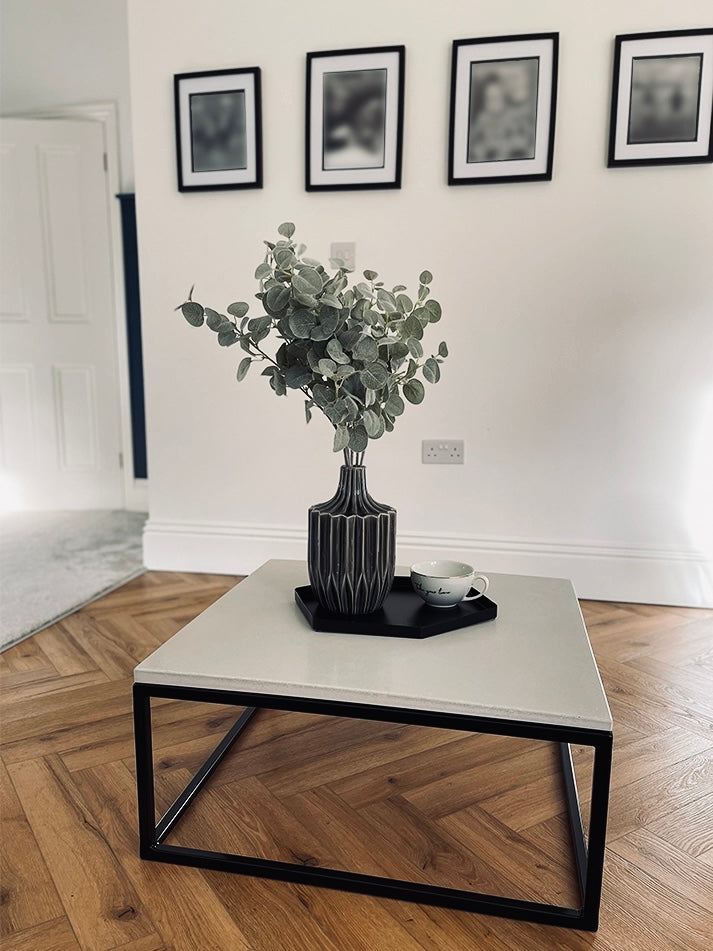 Book a Design Appointment
Join the waiting list!
Our design appointments fill up fast. Add your name to the list today and we'll be in touch to arrange a time and date to book the next available appointment, to suit you.
Book Now